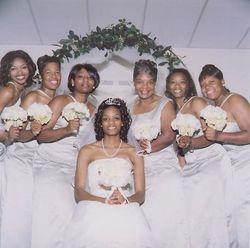 November 12, 2017 2:05 am
Leave your thoughts
TO: Kenneth Berry, Photographer
I went to several wedding sites on the internet and registered my daughter's
name, the only photographer that I heard back from was Kenneth Berry.
Kenneth explained to me his time was unlimited and the price was within my budget.
We had several date changes due to my daughter's soon to be husband being deployed.
Kenneth worked with me from the 1st date until I gave him a final date of the wedding.
His price never changed And furthermore he stated that if the wedding didn't go,
he would come to Atlanta, GA to do something special for me and my family.
Kenneth came that Friday night before the wedding and met all of the wedding party and
everyone else that took part in the wedding.
It was an exciting time for all of us.
A few weeks earlier, I managed to get him to talk with my daughter over the telephone.
She is stationed in Ramstein Germany (Air-Force) I was able to send her his website so she could see his pictures.
She loved his website and couldn't wait for her big day.
I have to say, in this day and time you don't meet people like Kenneth.
He is an all around person, down to earth and concerned about making you happy.
After the wedding I was concerned that the pictures wouldn't come out due to the lighting at the
wedding chapel and there were about three mirrors behind where the chapel setting was by the arch,
but to my surprise when Kenneth sent me the preview album within the week I was overwhelmed with
the pictures how clear and beautiful they were.
I highly recommend Kenneth to be anyone's photographer.
Kenneth thank you for your kindness to everyone, and he acted just like he was one of us.
At a point things got kind of hectic but Kenneth knew how to handle himself with all of us.
That's excellent customer satisfaction and you don't get that these days.
Again, Thank you Kenneth.
Alice Cody – The Mother of the Bride
WEDDING AND RECEPTION:
Diamond Hall & Conference Center 5495 Old National Highway College Park, GA. (ATLANTA)