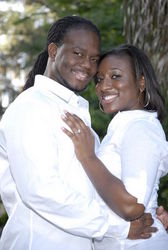 November 12, 2017 2:07 am
Leave your thoughts
To: kenthephotogr49@hotmail.com
TESTIMONIAL: Karen Dudley (BRISTOL, FL.) (Mother of The Groom)
I went searching on the internet for a photographer to handle my son's
wedding in Tallahassee. Ken called me and I felt at ease the minute we
started talking. He answered all of my questions and asked for my opinion.
He did not pressure me about price but gave his advice and suggestions
based on his past experience with doing weddings. Within a few minutes of
our conversation we were laughing and it felt like I had known Ken for years.
He is so easy to talk to and that made my job as the mother of the groom
a lot less stressful. Ken recommended engagement pictures for the couple so
we agreed on having it done at Maclay Gardens in Tallahassee which has
lots of pretty colors and views.
Ken arrived in Tallahassee several hours early and I knew right away I was
dealing with someone dependable who kept their word. When we pulled up
in the parking lot at Maclay Gardens Ken was already there waiting and had
his camera and other items in place. He was easygoing, neatly dressed, and
had professional equipment. He introduced himself to me and my kids and my
son's fiance'. Everyone was comfortable around him and I knew I had made
the right choice. The photo shoot went very well as Ken mixed up a lot of
poses and he also did some family portraits while we were there. Ken did
most of the posing but he also allowed us to suggest some poses of our own.
We had so much fun taking pictures. Ken never rushed us the entire time we
were there.
I received the pictures in the mail 2 weeks later and they were so beautiful
and so clear. Ken did a good job and my son and his fiance' were also pleased
when they saw them. Ken is not only a good photographer, he and I have
become the best of friends.
WEDDING LOCATION WAS MOVED TO SOUTH FLORIDA (POMPANO BEACH, NEAR FT. LAUDERDALE)
(WEDDING & RECEPTION WAS PHOTOGRAPHED JUNE 11, 2011)
Tiffany and LaBarron (Tallahassee, FL.)
ADDITIONAL COMMENT: Ken the Photographer was also hired by Mrs. Dudley to photograph
her Family Reunion (July 22, 23, & 24th 2011) at the Embassy Suites Hotel (Cobb Galleria)
on Akers Mill Rd. in Atlanta