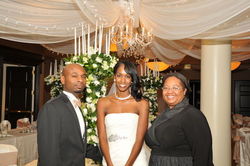 November 12, 2017 1:53 am
Leave your thoughts
TO: Kenneth W. Berry
My personal testimony to Kenneth Berry about Berry's Wedding Photography:
Kenneth,
I really enjoyed working with you at the Capitol City Club Platinum Wedding in Montgomery, Alabama.
You were very timely, very personable with the clients and their family, and extremely professional.
The pictures turned out so beautiful and crisp, some appearing to be 3D like.
My client and I were very pleased with your work and look forward to referring you to future clients.
Sincerely
Cossie Crosswhite
National Event Specialist. and Owner
1 Elegant Event, Wedding & Event Planning