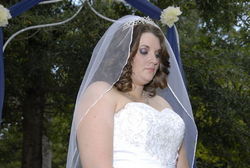 November 12, 2017 2:07 am
Leave your thoughts
TO: Kenneth Berry
We hired Kenneth Berry to be the photographer for our wedding. Our wedding was on September 24, 2010, a Friday.
Before Mr. Berry we actually had trouble finding a photographer since we were married on an odd day of the week.
He showed up with plenty of time to get most of our pictures done before the ceremony was to take place.
He took the pictures in groups to make sure we had the shot. He has an easy going personality and got along with every guest and family member.
Thank you Mr. Berry.
Mary & Calvin (Outdoor Wedding) (OZARK, AL.)