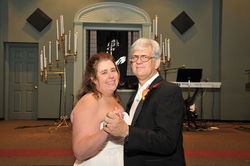 November 12, 2017 1:53 am
Leave your thoughts
TO: kenthephotogr49@hotmail.com
Ken,
We went to your website, and looked at our photos. They look great! Can't wait for the DVDs to arrive.
We appreciate the great work you did –and how well you got along with everyone there. You are just a personable individual to work with. Your attitude, your flexibility, and your ability to get along well with others make you one of the best in the business. I would highly recommend you to anyone at any time. Thank you for your promptness, and your attention to detail. You arrived before I did at the rehearsal, and to my knowledge, shortly after I got there Saturday morning.
Thank you for doing us such a thorough job.
Sincerely,
Eddie & Nona
WEDDING & RECEPTION: The Bridge Church (Cusseta, AL)